Thanks to everyone who helped out in 2019!
Want to volunteer for Baconfest 2021? Great! Mark your calendars for July 10th, 2021 and then fill out the volunteer application below. Our Volunteer Coordinator will retain all submissions and contact you next year when we start ramping up our preparations.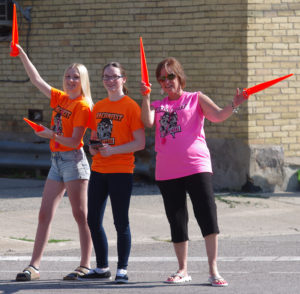 Volunteer FAQ's
8 Things you should know about volunteering at Baconfest
Baconfest "Everything Bacon & Bikes" is an amazingly fun unique event and our volunteer team is a vital part of its success every year. This is your chance to be a part of a crew that makes it all happen.
Not only will you get a wickedly cool Baconfest T-shirt with the Baconfest logo and super cool volunteer pass, but you will be getting all the love & support you can handle from fellow staff, volunteers and appreciative party goers. You'll also get the luxury of showing off your Baconfest T-shirt in the off season where people from all over will recognize your capacity to give and be a part of something bigger than yourself. PLUS you will make new friends and share stories of how amazing Baconfest was and will be the following years.

Being a volunteer at Baconfest will give you the ability to see what goes on behind the scenes. To watch it take shape is a humbling experience that is only understood if you've worked behind the scenes.

Going to the event solo? Volunteering for Baconfest is a great opportunity to connect with others and make lifelong Baconfester friends.

Some events require a deposit from their volunteers to solidify your commitment to their teams but that is not what we are about. Responsibility, respect and care at the event is the only thing we ask.

Every position is a cool position. There are different areas you can apply for and each one is unique to create the perfect event experience that YOU get to be a part of.

How long are the shifts and when will I know. We know that once you get to Baconfest you will also want to take in the sights, sample some bacon creations, and watch the shows because we do too. We would like you to commit to 4 hours either in the morning, afternoon or at night. Baconfest volunteer applications will start to be verified in April and you will be contacted in May by our volunteer coordinator Miss Suzanne so you will know sooner than later and can plan accordingly. She will give you the nitty gritty on what you will be helping with and where to sign in at the volunteer tents prior to the start of your shift and of course, give your wickedly cool T-shirt to wear that day during your shift.

Weather can be a huge factor when you have an outdoor event but rest assured the day must go on rain or shine. If the skies open up and flood Baconfest that day, make sure you are rain proofed and ready. If we are blessed with rays of sunshine, remember to bring your sunscreen!

Perks…..Yes of course, we all love perks and you will receive an Event Pass, Camping Pass if staying for the weekend and yes that sweet T-shirt.