Mark your calendars for Baconfest 2021 - July 10th!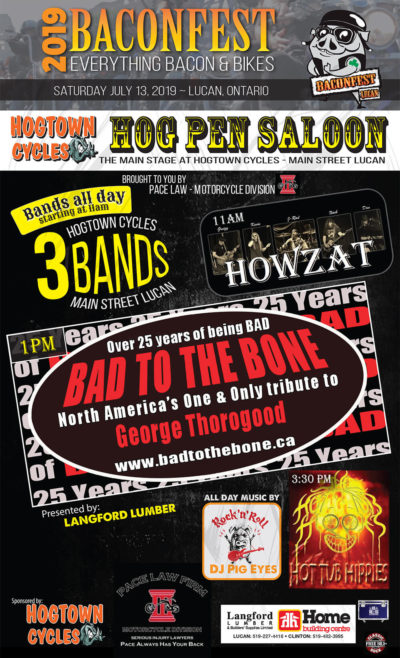 Have you heard about the Hog Calling Contest on Classic Rock 98.1?
The top three finalists will be competing for the title on stage at Hogtown Cycles at BACONFEST 2019 in Lucan on July 13th! Pretty cool prizes up for grabs. Visit Classic Rock 98.1 website for full details and join us at Baconfest to join in the fun!
This year on Baconfest weekend, Hogtown will bustling with bikes, Baconfesters, live music, and more! We've got extra room this year so watch for BIGGER and BETTER BEER TENT where you can sit and enjoy live music all day, starting with Howzat at 11am, Bad to the Bone at 1pm, and then Hot Tub Hippies at 3:30pm! Music between sets provided by DJ Pig Eyes.
The best way to keep the memories of this kick-ass event alive all year long is to pick up some Hogtown Cycles event swag, and we'll have lots on site for purchase.

TWO BIKES ENTER. ONE BIKE LEAVES.
Powered by

Brought to you by